Archive for the 'Poetry' Category
I dream…
I wake up in a room,
Lit only by the shine of a moon.
A room cold and bare,
As if no one had seen to its care.
I dream…
I walk to the door
My shoeless feet tiptoeing across the floor.
There is the door knob – do I dare?
The door glides open, but no one is there.
I dream…
I step over the threshold
And I'm no longer cold.
Not looking back, I step forward.
Not knowing what I am headed toward.
I dream…
I am walking on a narrow path.
No sign of anyone who had been there last.
There are no shapes or shadows in sight.
Only a clear, but starless night.
I dream…
I stumble and fall
But I stand back up, straight and tall.
Ahead, a fork in the road, I see.
Barely visible in the dawn, a choice for me.
I dream…
I sit, I watch, and I wait.
My future is ahead, but I don't want to be late.
The wrong path chosen, dissolves my hopes.
Choosing the right path, releases my yoke.
I dream…
My decision is made.
The path I choose no longer fades.
The horizon, my eyes seek,
Searching for the mountain peak.
I dream…
I am gliding along the path I've chosen.
Time no longer seems to be frozen.
My heart beats steady and true.
Colors begin to shift in brilliant hues.
I dream…
I see the path widening ahead,
And a voice in my heart said
"You have chosen well, my child, continue on
And you will never be alone."
I dream…
Of walking the miles of life,
Less the burden of stress and strife.
Knowing the joy in my heart
Will never again depart.
© 7/28/09 Karen ~Georgia Angel
Are you interested in reading more of my poetry?
Then click here, I hope you enjoy.
Current Mood:
Happy
I am Taking a Stand
Today, I am tired and weary.
My head aches from every day care.
My eyes are hot and bleary.
My heart has taken all it can bear.
I pray for peace to overcome me.
I pray for my eyes to open wide.
I pray for wisdom to see.
I pray for God by my side.
I am taking a stand
To be guided by
God's divine hand
and wipe my eyes dry.
My hands uplifted high
Thankful and in praise
God's mercy on me is nigh
Glory to God to the end of my days.
© 6/22/09   Karen ~Georgia Angel
Psalm 6:1-10 (NIV)
1O LORD, do not rebuke me in your anger
or discipline me in your wrath.
2 Be merciful to me, LORD, for I am faint;
O LORD, heal me, for my bones are in agony.
3 My soul is in anguish.
How long, O LORD, how long?
4 Turn, O LORD, and deliver me;
save me because of your unfailing love.
5 No one remembers you when he is dead.
Who praises you from the grave?
6 I am worn out from groaning;
all night long I flood my bed with weeping
and drench my couch with tears.
7 My eyes grow weak with sorrow;
they fail because of all my foes.
8 Away from me, all you who do evil,
for the LORD has heard my weeping.
9 The LORD has heard my cry for mercy;
the LORD accepts my prayer.
10 All my enemies will be ashamed and dismayed;
they will turn back in sudden disgrace.
Isaiah 55:8-11 (NIV)
8 "For my thoughts are not your thoughts,
neither are your ways my ways,"
declares the LORD.
9 "As the heavens are higher than the earth,
so are my ways higher than your ways
and my thoughts than your thoughts.
10 As the rain and the snow
come down from heaven,
and do not return to it
without watering the earth
and making it bud and flourish,
so that it yields seed for the sower and bread for the eater,
11 so is my word that goes out from my mouth:
It will not return to me empty,
but will accomplish what I desire
and achieve the purpose for which I sent it.
Hebrews 4:14-16 (NIV)
14Therefore, since we have a great high priest who has gone through the heavens, Jesus the Son of God, let us hold firmly to the faith we profess. 15For we do not have a high priest who is unable to sympathize with our weaknesses, but we have one who has been tempted in every way, just as we are—yet was without sin. 16Let us then approach the throne of grace with confidence, so that we may receive mercy and find grace to help us in our time of need.
Current Mood:
Happy
The theme/prompt for today, April 21, is:
TAILS – "Once upon a time"
Once upon a time,
I thought I had a mind.
I've lost it somewhere.
It's disaappeared in thin air.
I've looked on the street,
I even looked up the creek.
Do you know the place,
That's "safe", just in case?
Oh where, did it go?
If you find it, please let me know.
© Karen ~Georgia Angel 4/20/09
Click here to view other participants of Heads or Tails, hosted by Barb aka Skittles @ Skittles Place.
Current Mood:
Mischievous
I entered my "Walk on the Beach" poem in a free poetry contest on poetry.com.  I have been notified that my poem is in the "top rated picks" and I only need 20 more votes to win and be featured on the homepage.
 Won't you please stop by and rate my poem?
 http://www.poetry.com/voteforme/poemvote1.asp?PID=12271742
 Thank you very much!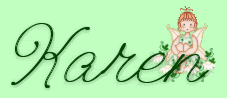 September 11: TAILS – Your reflections or recollections of the 9-11 terror attack.
9-11 American Remembrance
Our darkest tragedy
Our deepest fear
Our loved ones lost
Our burden to bear.
We now stand guard
Free, brave and tall
Sheer strength of will
We will not fall.
Our soldiers now in battle
With faith we pray
Their life they pledge
Kept safe each day.
We remember this time
With flags flying high
We keep the faith.
This nation shall not die!
© Karen ~Georgia Angel 9/6/07
Click here for more.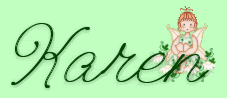 Posted 2007-09-11 9:01:28 am

She runs to me with arms open wide
Just as fast as her little legs can go
Squealing with delight "Mama, Mama"
As if it had been days, we had been apart, instead of hours.
I swing her up in my arms so that we see eye to eye,
And she throws her arms around my neck, squeezing me tight.
Her face beams with a smile so wide, stars twinkle in her eyes.
I hear her sweet voice murmur "Mama, I love you".
I whisper back, "I love you, too, My Sweet Leah Rose."
© Karen ~Georgia Angel
5/24/07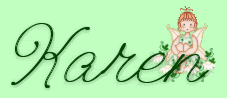 Posted 2007-08-31 11:04:06 am
My empty heart for so long
Fearful to ever beat strong
Seeming to always fill of echoes
Of love lost and in repose.
Dreams of a wondrous lover,
In my mind's eye do hover,
A man shining with love's light
Loving arms to hold me tight.
Honest, trustworthy, and loyal
Make me feel as a princess royal
Gazing into his eyes
Seeing my soul therein lies.
Hearing whispers of romance
My body is in a trance
Kisses rain ever so gently
Blood pounding so intently.
Awakening with a shiver
Passion fire like a river
Dying out like the wind
My heart empty, once again.
© Karen ~Georgia Angel
4/24/07
Posted 2007-06-07 12:22:01 am