Archive for the 'Celebrations' Category
It's my Birthday! And I'm 50! Really? I'm half a decade old. Yuck! That sounds horrible. But truthfully, I don't feel old (or at least most of the time I don't) and I'm told often that I don't look like I'm 50. Well, I have a 24 year old son, I call him my Handsome Prince, and I have an 8 year old daughter, my Princess in Training. I've been twice divorced and I'm still in the honeymoon phase of my third marriage. [You're a keeper, my beautiful, handsome husband, love ya]. I've worked in all different types of places, and have only been laid off a job once and that was last year in September. It's been a so-so life, but I intend to make the most of my next 50 years, well at least the next 25. I don't know if I'll make it to 100, but who knows? It runs in my family. My mother will be 75 in August this year and she is still kicking and going strong.
I have thought a lot lately about turning 50. My birthdays usually just pass me by with dinner with my family, but this year I think this is going to be a special day for me. Then, of course, silly me, I agreed to "work" on my birthday. What was I thinking? Only because I have this really cute doctor I'm working for that needs my help. Geez, I'm such a softie. Anyway, my daughter asks what do I want for my birthday. I always answer her "peace and quiet", whether it's for Christmas, or for anything. Here is my top 5 things I want for my birthday this year.
1. A sweet hug and kiss from my daughter.
2. A big hug and kiss from my husband.
3. A second birthday phone call from my mother (yeah, she called me yesterday to wish me happy birthday, gotta love her!)
4. A birthday text from my son and/or his girlfriend. I accept texts from her in corresponding with my son, lol. Weird, I know.
5. A beautiful day.
That's all I ask for. God has given me some beautiful days recently and I have thanked Him for every one. Each day has been more beautiful than the day before. I feel very blessed and can only hope that my next 25+ years will be just as blessed.
So, what am I really getting for my birthday? My beautiful, handsome Husband is taking me to Warm Springs/Callaway Gardens for 6 days. A vacation! I haven't had a real vacation where I didn't have to drive, cart around kids/kidstuff, mothers, and what have you, in I don't know when. It has been a VERY long time. I'm really excited about it. Just a chance to get away and ease off some of the stress and worry I've had for the past six months. Oh, and did I mention that it's a belated honeymoon? Heehee. It's a great time to be 50 years old, married and in love.

Technorati Women Contributing Writer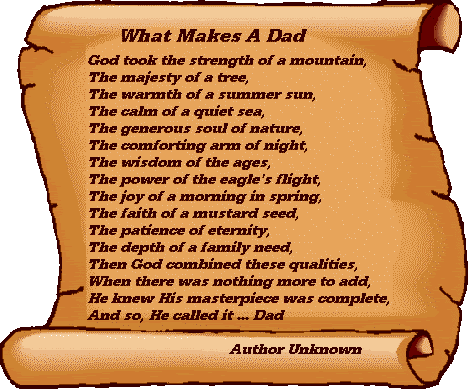 PicSpiK.Com | Happy Father's Day Graphics

Graphics for Fathers Day Comments
Yesterday, I went with Mama to the cemetery to replace the flowers on Daddy's gravesite.  The weather wasn't extremely hot, but it was still a little warm.  I hadn't originally planned to go to the cemetery this weekend.  It has just been too hot to go out, but Mama called the evening before and asked if I would go with her to visit her sister in the hospital and to help her with the flowers.  I agreed and I am so glad I went.
In May 2009, I wrote a post in honor of Daddy on his 81st birthday.  You can view it here.  I think that says it all and even now when I read it, it still makes me cry as much as I did when I wrote it.  So to all father's out there, living or not, with their families or not, and even the dead beat dads…
Contributing Writer
Technorati, Blogcritics, Examiner
All day yesterday, I had the best of intentions to sit down and prepare my first 2011 post for the Bloggy Moms Blog Dare and Daily Post Challenges. Sadly to say, there was never a chance to really sit down at my computer and put my swirling thoughts into a cohesive sentence, much less a post. It is now just after midnight, my neighbors as usual, are firing up the bottle rockets, and I'm sitting in my bed, cozy, toasty, and…. alone. I've been abandoned, the dog and the daughter are out in la-la land and not even twitchin' over the noise.
I do know one thing, I was resisting even mentioning one new year resolution. I was bound and determined I was not going to put down anything in words that even resembled a goal for the new year. Of course, if you read my post yesterday on A Mission A Day, you are probably scratching your head going, wha?  Yes, I did mention that I wanted to record something at the end of each day that refreshed my strength and faith to keep going, to willingly put my next foot forward.
So, with that being said, yeah, I do have a few things I would like to try to accomplish…. in no particular order.
Read the entire Bible from cover to cover before the end of the year.
Read at least 10 books during 2011, any book, probably science fiction, with maybe a few devotional books in between.
Be a better parent and role model during 2011.
Be diligent in prayer and praise and thanksgiving each day.
Be smarter about saving money and train myself to be more frugal.
Blog every day and Take a Photo every day.
Be a part of my online friends lives and make new friends, and to be more aware of and a part of my Real World Friends
Comment daily on at least 1 blog, preferably 5, but 1 will do.
See the humor, experience the joy, and live each day to the fullest.
Try to prepare more nutritional meals and stay healthy.
Faithfully believe that God provides, he heals, and he protects.
Be prepared to say in December 2011… Mission Accomplished.
As I'm finishing this list, I'm trying to think of what were my accomplishments for 2010.  I was delightfully surprised to realize that I had come up with a few…
I believe that I became a better parent during 2010.  I think it was due more to the communication between me and my daughter was much easier since hers had improved greatly, but still, it seemed to be a little easier this past year.
I joined a church and my daughter was baptized.
I celebrated at least one "miracle" during 2009.
I survived a trip and fall.
I recognized a Moment of Happiness.
So here's to finding more moments of happiness, living out my mission, making new friends, and growing in my faith and prayer.
I hope that you and yours have a successful New Year.  May God bless you richly, keep you safe from all harm, and shower you with love and favor. Pray for me and mine, and I will pray for you and yours.
Bittersweet, that's how I feel today. I don't always think of my Daddy as a veteran because he wasn't actually IN a war. He never spoke of his experiences aboard the U.S.S. Franklin D. Roosevelt, where he served during 1946 to 1949. My Mama tells me that the only thing he spoke of was the destruction and devastation of the things he saw. I used to listen to him talk for hours and hours, but not once did he ever mention his service to his country. I know he wasn't ashamed of his time that he was in the Navy. He always had a flag flying in the front of the house, and in his later years, he wanted to visit the F.D.R. and discovered that it had been decommissioned. Today, however, I do think of Daddy as a veteran. He served his country, proudly and solidly. Being in the Navy pointed his life in the direction of 35 years working in Civil Service for the DoD.
In remembering Daddy today, I also remember all the veterans of the Armed Forces, those long dead, those recently passed, and those still serving.  I have a red, white, and blue ribbon on the rear view mirror of m car, and I display a flag sticker on my car.  Both are a little faded, but they symbolize my pride in my country, for what we believe in, and for those who fight for our pride and for what we believe in.
"We should honor veterans because of the bravery and courage they have shown. We should honor veterans because they fight for the freedoms that American's enjoy, so that American's can live in a democracy and be confident in their safety."  http://answers.yourdictionary.com/history/war/why-should-we-honor-veterans.html
One of my favorite quotes is about the Soldier.
It's the Soldier, not the reporter
who has given us the freedom of the press.

It's the Soldier, not the poet,
who has given us the freedom of speech.

It's the Soldier, not the politicians
that ensures our right to Life, and the Pursuit of Happiness.

It's the Soldier who salutes the flag,
who serves beneath the flag,
and whose coffin is draped by the flag.."
So today, my flag flies for Daddy, and all the other Veterans, wherever they are.
Today has been a very quiet day.  We've just been lazing around, not doing much of anything.  I've been catching up on some of my computer time since we have been in and out so much over the past several days.
Friday night, I made a spur of the moment decision to go watch the fireworks.  Quite frankly, I hate the noise of fireworks.  I always have.  I remember going to the Plaza with my mom, my best friend and her parents.  We all rode in the same car.  I would cower in the back of the car, petrified of the noise.
Every year, the Band of the Air Force Reserve plays at the local Stadium to celebrate July 4th.  This year, Diamond Rio, played too.  Cost to attend the concert?  FREE.  Did I go?  NO.  I stay away from the big crowds.
But, I did find a nice little spot away from the crowd.  When I got there, there were about 25 cars already there, but it wasn't crowded.  I found us a little spot out of the way, and sat back hoping that I had made a wise decision.  Leah has only seen fireworks once and it was rainy and cold that night.  I fixed her up a spot in the back of the Explorer with a soft blanket and she had her nintendo game to keep her occupied.  I set up my camera and tripod, checked the settings, and made sure the camera remote was easy to find in the dark.  I've never taken fireworks photos before, so I was excited at the opportunity to be able to try it out.
Leah kept asking every, as children usually do, "Is it dark enough yet for the fireworks?"  "Have they started yet?"  Well, wouldn't you know it, she passed out before the fireworks started.
I had to wake Leah up.  She roused up long enough to say "pretty" and then passed back out again.  So I just sat by myself and happily clicked away at the camera.
So, all in all, my photos turned out pretty good.  Two things, I was parked right under power lines, so you can see a black streak on the left, and the fireworks were just above the tree line, so some of the displays were cut off on the bottom.
But the big thing I liked the best, I didn't have to hear the noise.  It was a very faintly muted pop.  That suited me just fine.
Wordless Wednesday –
Happy St. Patrick's Day
Visit one of the following for more Wordless Wednesday:
Wordless Wednesday at 5 Minutes for Mom
Wordless Wednesday at Moomette's Magnificents
Could I have one more day, for a 4-day weekend, pleeeaaaase?  This has been a busy time, I don't even feel like I've had a chance to take a breath.
My mother went into the hospital on Thursday, and we found out on Friday that she has colitis.  She has been battling with pain in her stomach for a month or so, and the doctor finally put her in the hospital to pump antibiotics and fluids into her.  I did try to rest a little on Friday, but we went out to get a birthday gift for a friend.  His birthday party was on Saturday, and he turned six years old.  His mama is a dear friend, and we've known each other forever.  She had a pirate/Hawaiian luau theme, and we had a great time.  The food was declicious and there were a lot of people there that I knew, so the company was good too.  Here is a picture she took of us.
And this is what she had for them to play on.
Can you believe Leah, barely 32 lbs and 41-1/2 inches tall, went down this thing?  It's HUGE!  Okay, so she only went down it once, and only when all the big kids were watching the birthday boy open his presents.  I put her ear plugs in with an ear bandit, and she climbed up with a little bit of help from one of the bigger girls.  She came flying down and landed in the pool of water.  I didn't think to tell her to close her eyes and hold her nose.  She got water up her nose and I think it scared her at first.  But after a minute, she started laughing and said that was fun, and that she "gargled" under water.  She tried to go up again, but she slipped a little on the ladder and decided she had had enough.  There was another little small pool just to the left that you can't see in the pic, and that's where she stayed almost the whole time.
After we left there, we went over to the hospital to visit with my mother and then went to my aunt's house to spend the night.  I get there, and my aunt's  housecleaning lady tells me she has stopped up the garbage disposal with potato peelings, so I knew it was going to be a long night after a long day.  I stood out in the sun for almost 3 hours because there was no rest for the mom of a little girl afraid of all the rowdy kids and splashing water.  I had a pounding headache.  We ate some supper and had some ice cream, and finally that went away.  The cleaning lady went out and bought a little hand held plunger and she worked on that sink for about 20 minutes, but by golly, she got that thing unstopped.  She was so upset with herself over stopping up the sink.   But it could have happened to any one of us.
My aunt told me she was worried she was retaining fluid again because she was having a little trouble catching her breath and she thought she was gaining weight.  I checked her ankles and she didn't have any swelling, and her breathing sounded okay to me.  After consulting with my mother on the phone (I hated calling her up at the hospital about it, but I wanted to be sure I knew what I was doing), we weighed my aunt and she had actually lost a couple pounds.  She weighed herself at the doctor's office on Friday, and their scales are usually a little higher than hers at home.  I think she just got herself upset over that and then her breathing was affected.  I think she felt better after we weighed her though.  After putting fresh sheets on the bed, and getting Leah settled down, I still got in the bed and was asleep before 11 pm.  Not too bad.
I must have slept pretty good, because I didn't hear a thing, and I don't think I woke up during the night.  Leah woke me up this morning wanting pediasure and to watch a movie.  And, I woke up with severe pain in my hip.  I'm walking with a limp now.  It's been hurting all day.  As soon as I finish this post, I'm going to bed with a heating pad and some Alieve.  We finally got up and moving about, dressed, and packed up the car and went back over to the hospital to visit with my mother again.  She was moved to a much nicer room today, so that will be nice for her.  She might be able to go home tomorrow.  We stayed there for several hours, then we started home.  Of course, I had to listen to "I miss Grandmother" for a good ways.  On the way, I decided to stop by a friend's house.  It was nice visiting with them, but again, I had to listen to a little more sobbing for a while when we left.
We did get some bad news last night.  A friend of ours in Indiana was killed in a car accident just a couple hours before.  The friend was going to the grocery store to buy fish to cook for dinner, and she pulled out in front of a fully loaded ambulance, and it couldn't stop in time.  She was killed instantly.  It's very sad, because she was a beautiful, Christian lady, and she will be missed by her husband and her family.  I know my mother will miss her terribly, because she was such a dear friend and was so very nice to my mother.  Makes you think on things when something like this happens so very suddenly.
We finally got home, and I am dog tired and not looking forward to getting up in the morning to go back to work.  So I'm begging for one more day, please?  Can somebody set the day clock to squeeze in an extra 24 hours before 8:00 tomorrow morning?  Thanks and good night!
Current Mood:
Happy