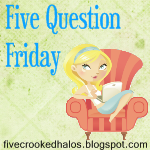 Five Question Friday for 2/26/10
I'm joining in a new meme today with Mama M. and friends on My Little Life.  Be sure to stop by and check it out.
Here are the questions:
1. Do you sing karaoke? If so, what is your go to song?
Nope.  I do not sing in public.  I'll sing in the car when I'm by myself, at the top of my lungs sometimes, but never in front of a crowd.
2. What is your favorite coffee drink?
I'm not a coffee drinker.  I don't know if it is because my mother used to drink coffee all the time and I couldn't stand the smell of it.  The closest I come to a warm drink is hot chocolate.
3. If you could choose your own name, what would it be?
My parents named me Leah Karen, but I've always been called Karen for some reason.  I would probably have chosen to be called Leah.  But, I guess Karen suits me just fine.
4. Were you ever bullied?
Many times.  My maiden name is Ivey.  Aha…  I can see the wheels turning already.  If you can think of it, I was probably called it.  Of course, poison ivy, is the foremost choice.  That was in elementary school.  In Junior High and High School, I was bullied by the bigger boys, I guess because they were bored?  Dunno.  I always tried to be very unassuming and very quiet, I did not like to attract attention to myself.  But somehow, the boys wanted to pick on the girl who dressed differently and acted differently.
5. How often do you eat fast food?
As often as I can?  For years, I ate McDonald's every day for dinner, sometimes twice a day.  Now, depending on the circumstances, I may eat fast food a couple times a month.  If I'm extremely busy and I'm out and about a lot, I eat it more often.  I crave it constantly, but I try to avoid it.
Click here to view other participants of Five Question Friday, hosted by Mama M. @ My Little Life.
Current Mood:
Playful