Archive for the 'Blog Party' Category
Wow, the blogging world has changed in just a few short months.  I've been trying to catch up on my blog reading, and the blog hops and memes have exploded.  I love memes.  I wish I could sit and blog about the memes all day long.  Here are just a few that I have come across so far.
Follow Along Fridays
Hosted by Amber @ The Mom Road
Friendly Friday Follow
Hosted by Emma @ Toddler Awesome
Fun Follow Friday
Hosted by Stacie @ Simply Stacie
and  My Wee View
Hosted by The Girl Creative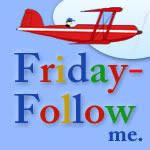 Friday-Follow me.
Stephanie at Babes Rockin Mami,
Michelle at Mommy Loves Stilettos,
and Laura at Vodka Logic
Follow Me Fridays
Hosted by Tara @  Trendy Treehouse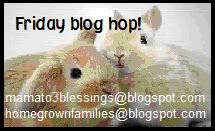 Friday Blog Hop
Hosted by Home Grown Families
and Mama to 3 Blessings
Follow Me Friday
Hosted by Still on the Verge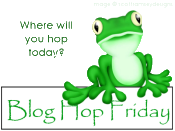 Blog Hop Friday
Hosted by My New Life as Mom
Flog Your Blog Friday
Hosted by MummyTime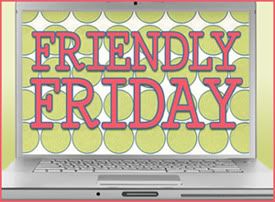 Friendly Friday
Hosted by Thanks Mail Carrier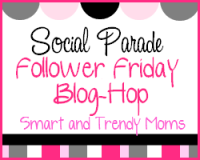 Social Parade
Hosted by Smart and Trendy Moms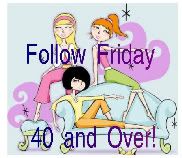 Follow Friday 40 and Over
Hosted by Never Growing Old
Please note that my Google Friend Connect widget is currently not working. I apologize for the inconvenience. I can't figure out what the problem is (if anyone has any suggestions, please leave a comment).
Have a wonderful weekend!  I don't plan on doing much except maybe participating in #TwagSale tomorrow and following new blogs.
Welcome to Twitter Hop Thursday, hosted by Simply Stacie, The King's Court IV, Little Yaya's, Review Retreat and Moms Wear Your Tees!
Would you like more Twitter followers and be introduced to more neat blogs and businesses out there? Come and join us!!
1. Add your Twitter to the MckLinky (you only have to add it to one and it will appear on all).
2. Click on the Twitter for the six hostesses and follow each of them on Twitter. We will follow you back.
3. Follow as many people on Twitter as you like, but make sure to leave comments with links so they'll know where to follow you!
Spread the word and add this MckLinky to your blog! Write your own post or copy and paste this one. Below the MckLinky box, you'll see "Want to be a part of this Blog Hop? Click here for instructions and code…." Have fun Twitter-Hopping along!
The hostesses have selected a Twitterer of the Week from last week's entries and the lucky winner is Lady Hill!!! She is in the #6 spot!  Next week's winner will be chosen by the host from everyone who participated today.
Please only add your Twitter url. All other entries will be deleted. Thank you!!!
I'm a stickler for punctuality… really, but I never can seem to get in on the front end of the blog hop parties.  I enjoy them and I love exploring new blogs.  But I'm always a late arrival.  A few weeks ago, I wasn't even sure that I would be able to continue blogging on a regular basis.  My doctor is trying to find the right meds for the pain I'm experiencing, he says "I think you have fibromyalgia"… okay.  So now I'm in my 3rd trial of a prescription, and guess what? It seems to be working, and I've only been taking it about 5 days.  I've even been told that I'm more "chirpier" since I started taking the new med.
So here I am, playing "catchup" with all the blog hop parties.  There are so many, and I think I'll be busy for a month just trying to get everybody in my "follow" system.  There was the Blog Hop 09 hosted by Robin @ PENSIEVE,   BlogHer@Home hosted by Princess Jenn, #NotAtBlogHer Twitter Party last Friday, hosted by Robin's Online World (which I totally missed).  Did you make it to the Non BlogHer Party, hosted by Mom of 2 Boys Wife of 1?  I missed it, but I'm going to try to get around to visit the blogs on the linky list.   Then there was the BlogNerd Bash hosted by Gariby Soup.
Oh, there just aren't enough hours in the day to do all the fun stuff.
If you missed my previous post for the Blog Hop, you can visit it here.  Here are some trivial things about me…
I have been wearing glasses since I was in the 3rd grade, then I started wearing contact lens in the 7th grade.  Last year, I had to switch over to bifocals…  sob…  I can't wear the bifocal contact lens.  They don't work for me.  🙁
I love chocolate and strawberry twizzlers.
I'm happy being a "loner", but I long to have a small group of local friends to entertain with, or shop with, or blog with.
I'm twice divorced…  it's been said "the men have been hard on her", AND it's been said "she's been hard on the men".  Well, which is it?  I don't know.
I love blogging memes.  I don't always participate, but I  hop about occasionally checking them all out.  I have a very long list that I have collected that I plan to blog about one day.
I'm addicted to  Dr. Pepper.
I destroy plants and electronics, not intentionally, but somehow I just can't seem to manage to keep them in "working" order.
I'm very uncoordinated.  I have no groove, and I have 2 left feet.
I yearn for peace and quiet (I do have a 5 year old), but I can't get through the day without having a TV or radio on, and usually more than one on at a time.
I am an extreme multi-tasker, just like any mom, I suppose…  work, twitter, work, facebook, work, laundry, work, lunch for Leah, work, work, watch Y&R, work, blog.. and on an on.
I want to start my own business.  But I can't focus on one thing to do, that's a major problem.
I love to play classical music on the piano, but I haven't played in a million years.  I long for a piano again.
I'm a southern, country gal, but I'm not a redneck.  I like to live in the country, but I can't be more than 20 minutes away from Walmart.  I"m always "fixin" to do something, and am always caught off guard when someone mentions my southern accent. I tawlk funee?
So, there are a few quirky things about me.  Sometimes I think I'm an absolute "oddball", then other times I think everybody else is "odd",  lol <but really me 98% of the time>.
I'm looking forward to meeting other bloggers and learning about them.  Thanks for stopping by and come back to visit again soon.
Current Mood:
Happy
Hey ya'll, I'm a little late getting started with the Blog Hop.  Seems like I'm always running late meeting up with my internet friends.  I want to thank Robin @ PENSIEVE for hosting the Blog Hop, for us bloggers that can't attend BlogHer '09 Annual Conference.  If any of you are following blogging friends at the conference on Twitter and Facebook, you know they are having a grand time and sharing all their adventures with those of us at home.  In the meantime, we at home are blog hopping to keep the spirit going.
As an introduction for myself, I'm 47 years old and a single mom of a 5 year old living in my hometown in Middle Georgia, USA.
Career – I'm an administrative assistant for a technology services company in Florida.  I am very fortunate to be able to telecommute.  When I learned that I was pregnant (at the age of 41, mind you) back in 2003, I was concerned about the health of my child, and approached my employer asking to consider the possiblity of working from home.  The company I work for is a Fortune 500 company, with over 40,000 employees world wide.  I did work in an office, getting dressed up every day, wearing makeup, having my hair styled, and my nails done, being the professional administrative type person.  The employees I supported worked in another location, so all of my tasks were basically via email and web applications and I visited them once a week n person.  When my daughter was born, the doctors discovered she had physical abornmalities and it took a good 3 months for them to diagnose her with Freeman-Sheldon Syndrome, a rare genetic muscuoskeletal disorder affecting one in a million babies.  At that time, my employer and I started serious dicusions about entering a telecommuting agreement.  I had been working for this company and for the same business unit for 8 years at that time, and had proven myself trustworthy and dependable, so my request was approved.  The arrangement worked out very well because  my little tiny daughter's therapy and specialist schedule was quite busy and I could continue interacting with employees via email and web.  In 2006, I moved from Florida to my hometown in Georgia to be closer to my family, and my employer agreed to allow me to continue working from home.  The employees I support are easy going and pleasant to work with, and at the same time, I don't have to deal with "office" politics.  The down side is that I no longer have face to face visits with the employees, and that I do kinda miss.
Family – I'm an only child, but I come from a very large extended family.  My daddy, who passed away in 1998 from colon cancer, had 12 brothers and sisters.  My mama is still living, and going strong at the age of 71, after 3 hip surgeries.  She had 10 brother and sisters.  Mama is the sole, full-time caretaker of her 82 year old widowed, childless sister, and I try to help her as much as I can.  I have a 21 year old son, Ted, who lives nearby.  I don't see him as often as I would like, but I try not to invade his privacy.  I'm more of an "aunt" than a "mom" because his father and I divorced when he was barely 2 years old, and by mutual agreement, his father was the custodial parent.  Since I lived in Florida for almost 10 years, I didn't see him very often.  Sometimes I don't think we know each other very well, and that's why I say I feel more of an "aunt" sometimes than a "mom".  He has turned out to be a handsome, fine young man and I am very proud of him.  He works as an aircraft mechanic and seems to enjoy his job, but he works a lot, 6 days a week.  But he likes his money, and he is a conscientious hard worker.  Last night, we went out to eat dinner with him, and it was the first time in a very long time that we just sat around and just laughed and joked and had a really good time.  I enjoyed it.  It was an opportunity for us to get to know each other a little better.  I hope we have more of those moments together.  My 5 year old, well, she is my ball of energy.  She has a beautiful face, and a beautiful personality.  She is a little social butterfly.   When you see her the first time, you don't notice anything, but when you take a second look that's when you see that there is something slightly different about her face, or her hands, or her feet.  She is a delight some days, but an absolute terror on other days.  She thinks she rules the roost, but we all know who is really the top hog at the trough, that would be Me, the Mama, lol.   She is independent, strong willed, stubborn, and oh so very smart.  She really keeps me on my toes.
Home – I live in my hometown in Middle Georgia.  I've lived in this area all my life, except for the 10  years I lived near Fort Walton Beach, FL.  I loved it down there and I really miss it.  But being here at home with my family is more practical right now so that my daughter can know her brother and her grandmother.  I live in a 3 bedroom/2 bath home that I love.  I have a separate room for my office where I can close the door, either when I'm working or when I'm not working.  The rooms are large and it's just right for my daughter and me.  I'm a horrible housekeeper, I don't vacuum or mop regularly, and I really hate cleaning bathrooms.  I do have a secret desire to be a "homemaker" where I love to cook, and decorate my home, and keep it nice and sparkling clean, and to even entertain my friends on occasion.  But I still have to keep somewhat of a "child proof" home and after working and keeping up with a 5 year old, I have no energy for anything like that.  I'm always searching for the balance of keeping a home, taking care of a child, working full time, and having "me" time too.
Hobbies – I am interested in a variety of hobbies, and I'm always jumping from one thing to another.  I'll get involved in one thing and neglect others.  Another balancing act… lol.  I love to read, mostly science fiction, crime mysteries, and sweet love stories.  When I was young, I was always at the library reading anything I could get my hands on.  Now I have to sneak in reading while sitting at the fast food drive thru, or in the bathroom,  or the doctor's waiting room.  I also love to crochet.  For the past couple of years, I've been crocheting with a group called American Angels.  We make "heroghans" for the families of military members who have passed away  I also like to make afghans, laprobes, and baby blankets to donate for charity.   I also like to make anything to do with angels.  For a while, I was making angel christmas tree top decorations and antique angel jewelry.  I've also tried to indulge in a little photography.  I'm really not very good.  Some of my best shots I've taken, have been by accident.  I love to have little "photo shoots" with my daughter.  My biggest passion for the last several years has been web design & graphics, and more recently blogging.  I can spend all day on the computer, surfing the internet, reading blogs, keeping up with twitter, facebook and myspace, and the mom blog communities.  Some days I try to sneak in some activities during the work day, but most days I can't wait for the end of the work time, so that I can sit with my laptop and just surf and read and play.  Since I really have no social life, the internet kind of gives me the connection with other people where I don't have to sit face to face with someone.  Every now and then, I write a litte poetry when something comes to me.  I would like to sit down and write a short story one day, or a story about my life.  I could really tell some tales from my past that would probably shock some of the people that know me.
So that's me, I'm very quiet, shy, and reserved.  On the other hand, I'm opinionated and stubborn.  I like to control all aspects of my life, and I stress and worry when things get out of control, which happens quite frequently.  I don't like to ask for help, and it's even worse for me to accept help from somebody when it is offered.  I'm a Christian, but my faith has been tried, and it seems I struggle daily to keep my faith.  I try to live a decent and non-complicated life.  I don't like a lot of clutter or drama, but with my 5 year old…  that seems to be a daily or hourly thing.  I'm pretty much a homebody, just a country girl trying to be a good person and do the right thing.
I hope ya'll come back to visit again and browse through some of my blog postings.  I love comments and I always try to visit those who leave comments.  Thanks for visiting and happy blog hopping to you!
Current Mood:
Happy
"First Impressions" to your home are always very important.  I love the entrance to my home.  It's not anything fancy, just a simple entrance, that I hope is welcoming and inviting.  This is the last photo I took in March of my front door.
This is one of my favorite photos I have taken of my front porch.  This is from October 2008. 
I collect angels, so this is one of the first things you see when you come on my porch.
I also have an ivy theme in the foyer, so the mat on the front porch starts the ivy theme there.
Click here to view other participants at the Doors to Adore party hosted by Kara & Kijsa @ Ask Kara & Kijsa, and co-hosted by Darlene @ Jade Creative.
Current Mood:
Happy
 Today is the last day of the Party at 5 Minutes for Mom, so head on over and check out the prizes and meet other friendly bloggers.
Check out my daily party posts with 5 Minutes for Mom.
Day 1 – Friday, March 20th – It's a Party at 5 Minutes for Mom
Day 2 – Saturday, March 21st – Day 2 of the 2009 UB Party
Day 3 – Sunday, March 22nd – My Collections
Day 4 –  Monday, March 23rd – My Most Favorite Hobby
Day 5 – Tuesday, March 24th – Sewing & Needlework
Day 6 – Wednesday, March 25th – Jewelry
Day 7 – Thursday, March 26th – Angel Centerpieces
 I want to say thank you to all my visitors who left me comments.  I have enjoyed visiting other UB party sites, and there is lots more to see, so I'll be visiting for a while longer.
It's been a great week and I hope ya'll have a wonderful weekend.  Tomorow is my birthday, so I've got a full day planned, starting with my daughter's preschool Spring Fling, then a movie, and dinner with my family.  I'm excited that Spring has arrived, even though it's kickin' my allergies up, but it's warm weather and my toes can finally thaw out.
I'm going to leave you with sunset photos outside my house a few nights ago.  I hope you enjoy.
 Take care UB friends and see you around the internet.