Mommy of the Week
on
Thanks Jeanne!
This is a great group.  Come on by and check it out!
I'm still looking for quality articles for my Mommy Inspired Blog Carnival for the month of June.  I should have posted it last week, but I've been so busy with helping my aunt that I decided to postpone it.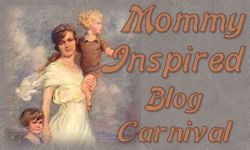 Have you written a post lately that tells of how much your children inspire you, or how much you love your children?  I'm not really looking for articles on how-tos or tips on being a mother, just a story that tells of a mother's love for her children.
Current Mood:
Happy