Well, I have busted my July NaBloPoMo challenge.  I didn't post anything yesterday.  I was kinda tired last night and wasn't feeling up to much of anything.  I came to the conclusion last night that I am going to give up some of my personal activities…  choosing the one that I would rather be doing the most of.  The problem is everything I love to do involves using my hands…  crochet, arts & crafts, blogging/web design & graphics.  That is one of the areas that I am experiencing the most pain right now…  my hands.  There are some days that I can't even hold a book to read.  I've pretty much cut out the crochet work and arts & crafts I've been doing.  So now I have all these craft kits and supplies stored out in my garage that I need to do something with.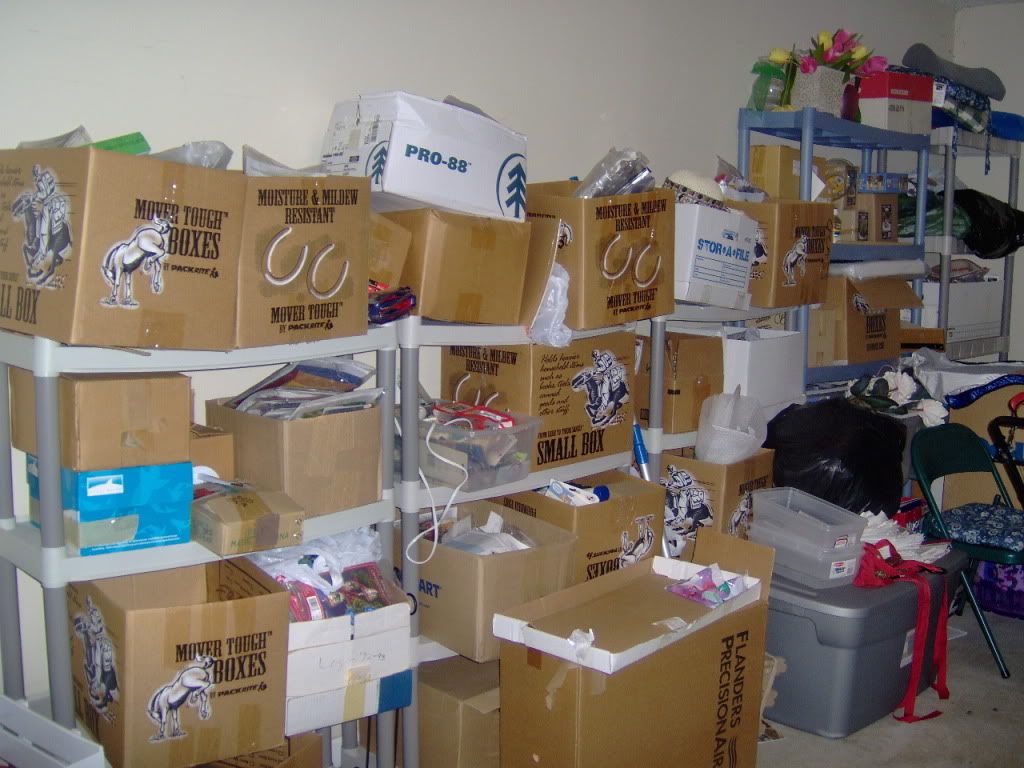 All of these boxes are stuffed full of all different kinds of crafts that I have been collecting over the past several years.  I haven't made time to work on them because of having an infant turned toddler turned preschooler underfoot.  I was thinking late this year I could start working on some of them and not have to be too worried that she was going to mess with my "stuff".  So, I guess I just need to get rid of it, either through ebay or etsy.  It's going to be hard to part with all of it.  I'll probably cry.
So that leaves my personal computer time.  I'm going to make myself spend less time on the computer, so I don't know what that is going to do to my blogging or my comment challenges.  I so enjoy posting my photographs that I take, and occasionally writing an article.  But it does take a toll on me to spend the time composing and writing the blog post.  This morning, I tried to lay in the bed as late as possible, and I only managed to stay in the bed until about 10:30 or 11:00.  After being interrupted about 5 or 6 times by Leah Rose wanting something and having to get up and take care of it, then laying back down again.  It almost wasn't worth the effort.  So I got up and laid on the sofa and just did some channel surfing on the  TV.  Not much was on and I got bored very quickly.  By about 3 or 4:00, I was about to go stir crazy from not doing something…  anything.  So I had to get up and play on the computer some.
So, here are a few things that I worked on.  I was checking out imagechef.com and created this image.  I thought it turned out pretty cute.
I love my fairy princess.
I took my baby to the hairdresser yesterday and got her to cut her hair cut.  Up until now, I've only been just getting her bangs and ends trimmed.  I think she has the prettiest hair, it's got kind of a red tint to it that she gets from my maternal grandmother.
All this long hair on a 5 year old really is a pain to keep up.  She doesn't care for wearing ponytails, but she always has her head down, and the sides just hang down in front of her face.  I finally got tired of looking at it that way.  So, here is what happened at the hairdresser.
She cut off about 5 or 6 inches.  It's going to take me a really long time to get used to it.
I love my Leah Rose.
Current Mood:
Happy