Are you partying with 5 Minutes for Mom?  Come on and join the fun.  It ends tomorrow, March 27th. 
 Check out my daily party posts with 5 Minutes for Mom.
Day 1 – Friday, March 20th – It's a Party at 5 Minutes for Mom
Day 2 – Saturday, March 21st – Day 2 of the 2009 UB Party
Day 3 – Sunday, March 22nd – My Collections
Day 4 –  Monday, March 23rd – My Most Favorite Hobby
Day 5 – Tuesday, March 24th – Sewing & Needlework
Day 6 – Wednesday, March 25th – Jewelry
 I love angels, as I've posted before, and several years ago I got interested in creating some of my own after I saw this Butterick pattern.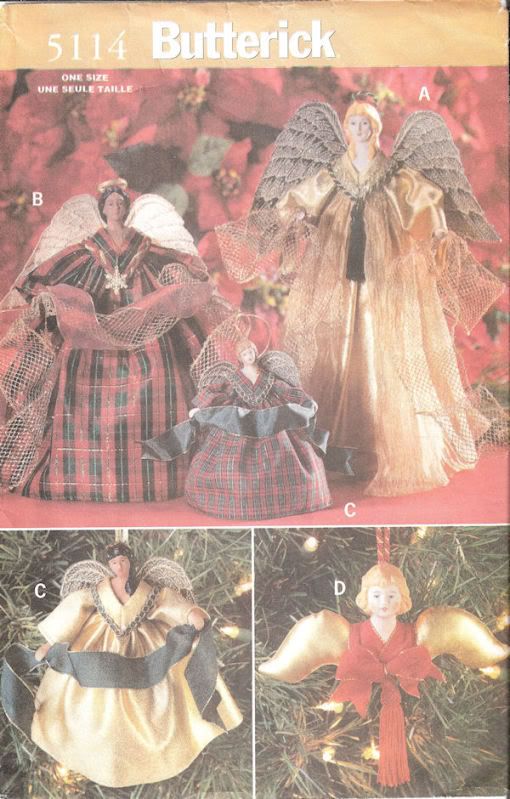 Here are some of my creations.
This is "Lindsey".  She is the first one I made.  I loved the teal color of the satin dress with the gold trim.
This is "Ginger".  I think she is my favorite.  It was made in honor of my best friend, Ginger, who was an angel to me when I needed one.
This is "Leah".  A cute little lacy angel.  Leah is my first name, but I go by Karen, and my daughter's name is Leah.
Click here to view more.
Here is one last angel I want to share with you.  This is on my front porch.
A whisper in the air
Nudging a wisp of my hair
Gentle words enter my soul
Everlasting thoughts to make me whole
Love fills my heart
Showering my life for a new, fresh start.
© Karen ~ Georgia Angel
5/22/07
My prayer for you is that your Guardian Angel is watching over you.