She runs to me with arms open wide
Just as fast as her little legs can go
Squealing with delight "Mama, Mama"
As if it had been days, we had been apart, instead of hours.
I swing her up in my arms so that we see eye to eye,
And she throws her arms around my neck, squeezing me tight.
Her face beams with a smile so wide, stars twinkle in her eyes.
I hear her sweet voice murmur "Mama, I love you".
I whisper back, "I love you, too, My Sweet Leah Rose."
© Karen ~Georgia Angel
5/24/07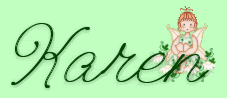 Posted 2007-08-31 11:04:06 am