EDITED:  Just a note, this isn't my daughter.  I was babysitting for the day.  I guess my post was just a little too "wordless", lol.
View other Wordless Wednesday participants:  5 Minutes for Mom, Wordless Wednesday HQ, By Word of Mouth Musings, NOLA Mommy, Mommy Moment, For the Love of Baby, Moms Own Words.

Technorati Women Contributing Writer
Yesterday, I posted my Wordless Wednesday photo, two pairs of snuggly toesies.  In all fairness, that sight is not a frequent occurrence around this household.  Only because I'm not the type that likes to have my feet touched.  But there is a reason why there were snuggly toes in the bed on Monday.
We have a 9 month old, thousand pound puppy.
This is her usual perch during the day.
We had a visitor over the weekend.
A 3-legged beagle named Lucky.
And this is where the poor puppy had to spend most of the weekend.
We were worried she would rip the beagle to shreds.
I don't think we had anything to worry about.
He held his own.  This was one of the peaceful moments.  The puppy has a mighty scary bark and it echoes off the walls of the house.  So the 7 year old and I holed up in the bedroom on the far side of the house.
So that's how we ended up like this.
Our company is gone now.  And the puppy can resume her usual perch on the couch.
View other Wordless Wednesday participants:  5 Minutes for Mom, Never Growing Old, Wordless Wednesday HQ, Mommying on the Fly
Come back tomorrow for Tell Me Thursday, and I'll tell you why the cuddly feet.
This post was written to participate in Day 19 of the BloggyMoms.com Blog Dare.
[Mission accomplished: Washed the dog]
Wednesday Edition
PHOTOS taken by my 6 year old
Click here to view other participants hosted by Kdubs @  Wordless Wednesday.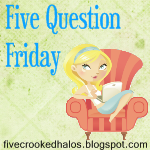 Five Question Friday for 2/26/10
I'm joining in a new meme today with Mama M. and friends on My Little Life.  Be sure to stop by and check it out.
Here are the questions:
1. Do you sing karaoke? If so, what is your go to song?
Nope.  I do not sing in public.  I'll sing in the car when I'm by myself, at the top of my lungs sometimes, but never in front of a crowd.
2. What is your favorite coffee drink?
I'm not a coffee drinker.  I don't know if it is because my mother used to drink coffee all the time and I couldn't stand the smell of it.  The closest I come to a warm drink is hot chocolate.
3. If you could choose your own name, what would it be?
My parents named me Leah Karen, but I've always been called Karen for some reason.  I would probably have chosen to be called Leah.  But, I guess Karen suits me just fine.
4. Were you ever bullied?
Many times.  My maiden name is Ivey.  Aha…  I can see the wheels turning already.  If you can think of it, I was probably called it.  Of course, poison ivy, is the foremost choice.  That was in elementary school.  In Junior High and High School, I was bullied by the bigger boys, I guess because they were bored?  Dunno.  I always tried to be very unassuming and very quiet, I did not like to attract attention to myself.  But somehow, the boys wanted to pick on the girl who dressed differently and acted differently.
5. How often do you eat fast food?
As often as I can?  For years, I ate McDonald's every day for dinner, sometimes twice a day.  Now, depending on the circumstances, I may eat fast food a couple times a month.  If I'm extremely busy and I'm out and about a lot, I eat it more often.  I crave it constantly, but I try to avoid it.
Click here to view other participants of Five Question Friday, hosted by Mama M. @ My Little Life.
Current Mood:
Playful

Wednesday Edition
My Pretty Yellowbird
Click here to view other participants hosted by Kdubs @ Wordless Wednesday and 5 Minutes for Mom.
Current Mood:
Happy
This is a photo that my mother took a long time ago.  We used to drive up in the Smokey Mountains several times a year, and this is an old mill that is somewhere up there.  I scanned this photo and tried to manipulate it in Sepia, but nothing looked as good as the original.
Click here to view other participants at Sepia Scenes, hosted by Mary/theTeach @ Work of the Poet.
Current Mood:
Happy